Use CrownWallTM panels as an interior finish; installed as a track, a section, or to cover a complete wall. Panels can be installed over drywall or directly onto studs.
Garage Frontiers is now a Garage Royalty authorized distributor! Garage Royalty products are of superior quality featuring sturdy construction and enduring beauty in all their product lines including flooring, cabinets, and storage products. They offer a complete line of quality products for various styles and budgets.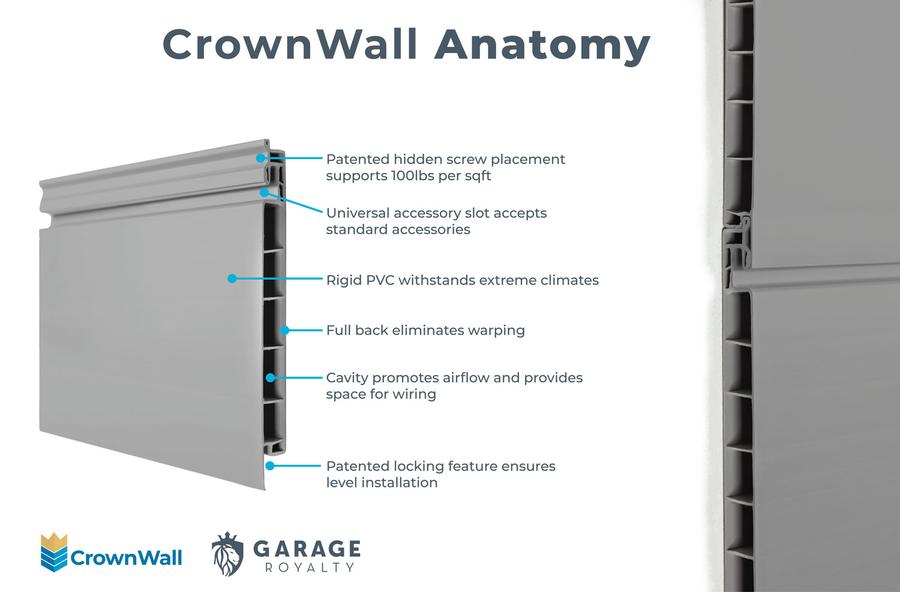 The CrownWall difference:
Faster installation time
Patented screw placement supports 100lbs per sqft
Rigid PVC withstands extreme cold climates
Full back panels eliminate warping
6" designer panels
Smart trim for easy corner installation
Hidden screws for clean appearance
Universal accessory slot accepts standard accessories
Patented locking feature ensures level installation
Cavity promotes airflow and provides space for wiring
Flame resistant
Non-toxic material
100% recyclable
Made in Canada
Lifetime warranty
To learn more call 780.463.2802 or feel free to send us an email.
Want to learn more? Check out the Garage Frontiers website.