The Lifestyle brand garage door screen is a fully retractable garage screen system that works with your existing garage door. The Lifestyle features an industry first, fully retractable passage door for ease of entry and exit without having to retract the entire system. The garage screen is fully spring loaded, making opening and closing quick and easy.
Now you can go from garage to a cool, bright, pest-free space in seconds. When you're done enjoying the great outdoors, simply retract your Lifestyle garage screen system and close your garage door as usual. It's just that easy!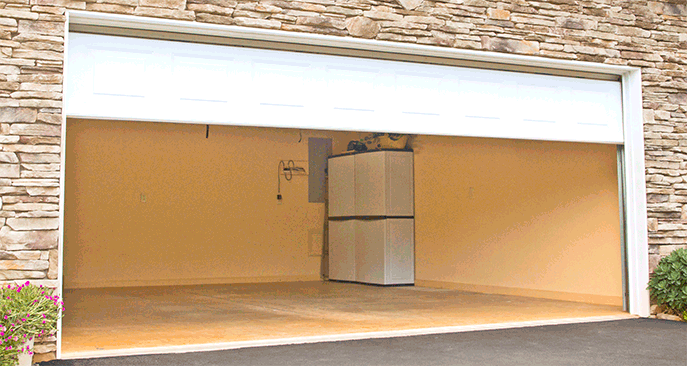 Features:
In the UP position, the screen is almost invisible from the outside
In the UP position, the screen is horizontal and directly under the permanent garage door
No tracks, frames or casements on the garage door opening to be seen from the outside. 100% of garage door opening is accessible
In the DOWN position, the screen forms a seal against the interior jambs of the garage door opening
In the DOWN position the bottom rubber astragal forms a seal with the garage floor to prevent a variety of critters from entering the garage
Sturdy but lightweight aluminum frame allows for easy manual operation
There are no tracks, frames, or additions to be attached to the jambs or the exterior facia of the garage door opening
The retractable passage door in the middle allows for easy entry and exit
Screen material allows for a cool and airy garage
Privacy screens, solar screens and no-see-um screens are optionally available
The Lifestyle is framed with 2″ x 2″ architectural grade aluminum with a wet painted shell for a durable and consistent finish. The Lifestyle screen runs on maintenance free tracks, independent but similar to your primary garage door tracks. Lifestyle's spring loaded counter-balance system makes it effortless to open and close the screen and eliminates the headache of an electric opener. Lifestyle's optional door-within-a-door feature allows for easy entry and exit. When in use, the Lifestyle screen occupies the same position as your solid garage door. No other garage screen offers Lifestyle's broad range of features. Bottom line is, your search for a garage screen system that will give you many years of trouble free service ends here. Lifestyle is the only garage door screen for you.
Lifestyle garage door screens work with your existing garage door!
To learn more call 780.463.2802 or feel free to send us an email.
Want to learn more? Check out the Garage Frontiers website.